Doral Florida Map
The beautiful City of Doral is a fast growing upscale community located just west of the Miami International Airport. Doral incorporated in 2003 and was named after the famous Doral Golf Resort & Spa within the municipal city limits. The Golf Resort & Spaa was founded in 1959 by Doris and Alfred Kaskel. Their names Doris and Alfred combined created the name "Doral". Doral is home to the counties' largest retail shopping center, a wide selection of fine dinning, entertainment, and much more.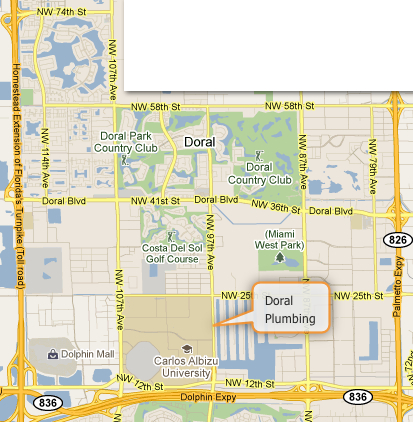 Doral Plumbing is a proud local business involved in the community and our efforts in conserving water, protecting our environment, and saving our clients their hard earned money. Please support your local Doral businesses.
We Love Referrals.
Call

(305) 918-1881

Today

*City of Doral & Miami Dade employees receive 10% discount off service and parts.